Copper Cable Testing and Certification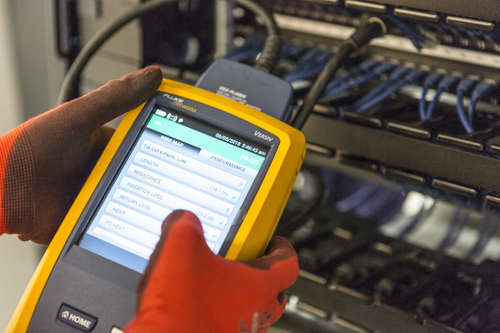 Where some structured cabling companies cut corners - we, at Talkwire, believe that testing and certification is essential for our customers.
A well-installed copper cabling infrastructure represents a critical investment for any business. So it's vitally important to have no doubt that you're getting exactly the security and performance that you paid for. Both for your own peace of mind and to satisfy all relevant warranty and regulatory requirements.
Cutting Edge Equipment
At Talkwire we made the decision to invest heavily in top of the line tools and technologies along with the best training for our engineers. We use equipment from Fluke Networks including the state of the art DSX-5000 Cable Analyzer. This means we're able to offer you accuracy that far exceeds warranty specifications - as recognised by Hellermann Tyton, Nexans and Excel.
Your Own Results Dashboard
All our customers receive their very own online test result dashboard. This means you will have lifetime access to all your certifications and test results as soon as they're completed.